Lisa Song Sutton has a philosophy that she applies to all of her business and investment ventures.  "It comes down to purpose.  Why am I working so hard?  For me, I want to leave a legacy.  It's something I've striven for in everything I do, from pageantry to business to investing to executive board membership.  I want it to be worthwhile and purposeful."
AHP is continuing our commitment to honor our investors by shining a spotlight on Lisa Song Sutton.  This 2014 Miss Nevada is an entrepreneur with a passion for impact investing.
Lisa began modeling in college, where she earned degrees in political science and law before moving to Las Vegas.  While there she launched Sin City Cupcakes with a friend she'd met while modeling.  The business sells alcohol-infused cupcakes and has catered for celebrities such as Derek Jeter, Michael Jordan, and Floyd Mayweather.
Lisa entered her first ever beauty pageant at the age of 28.  The age cap to enter was 29.  "I was the oldest and shortest candidate," she recalled of the experience.  "Needless to say, the odds were stacked against me."
But being the oldest had its advantages as well.  "Think about where you were at twenty versus where you are at twenty-five, versus where you'll be at twenty-nine," she said.  "There are four areas of competition:  swimsuit, interview, evening gown, and onstage question.  Break it down, and the interview and onstage question are fifty percent of your score!  So half of the score is talking.  So I buckled down and concentrated on those areas."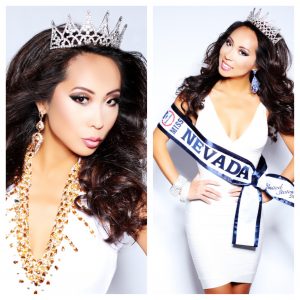 "Physical fitness and aesthetics are important," Lisa assured, "But, at that level of competition, everyone is gonna look great in a swimsuit or evening gown.  So those portions are completely subjective.  The way you really stand out is by nailing it in interview and onstage question."
Her education and business experience paid off.  Lisa was crowned Miss Nevada United States in 2014.  When asked why she turned to pageantry, Lisa shared:
"Each girl has a different journey.  Some compete because they want to break into modeling, some to become actresses.  For me, though, I was already done with school, I had already modeled throughout college.  This was a way to leverage my involvement in the community and give back in a tangible, meaningful way.  It was amazing for business."
Since her win, Lisa has expanded her business pursuits to add real estate, lingerie and swimwear, writing, speaking, and media.  "I'm very lucky to have strong partners in everything I do," she said when asked how she manages such a diverse set of business ventures.  "I'm not a one-woman show."
Lisa enjoys the challenges of juggling all these businesses.  "My time is allotted depending on what's going on in the business on that given day.  It keeps it interesting."
With so many projects that she cares about, Lisa couldn't name a "favorite."  She did offer, however, that Sin City Cupcakes is "the most fun.  It's alcohol cupcakes, it's Las Vegas – you can't go wrong.  No one is ever upset when they're buying cupcakes."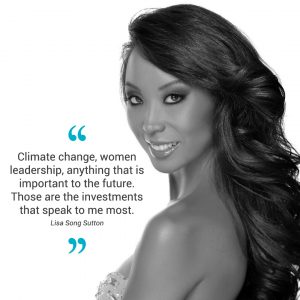 Aside from her own ventures, Lisa is also a savvy investor who prioritizes social impact.  She sees purpose beyond just monetary value in the power of investing to make a difference in the world.   She is particularly passionate about female leadership.  "It's important for everyone to have a voice, for women to take a seat at the table and realize that they are just as deserving to be there as everyone else in the room."
"Anything that is important for the future.  Those are the investments that speak to me the most."
"There are two pieces of advice I give young girls.  The first is: dream big. Anything that you dream of, anything you see on TV or social media, that is completely achievable.  It just takes hard work.  That segues into the second piece of advice, something my parents always told me:  Hard work beats talent when talent doesn't work hard."
AHP is proud to have the support of inspiring leaders like Lisa Song Sutton.
Tags: beauty, city, cupcakes, entrepreneur, invest, investor, lisa, nevada, pageant, sin, song, sutton, vegas