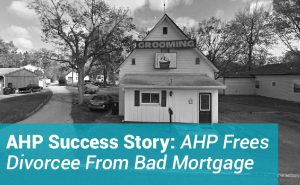 "One mortgage is easier than two."
Steve Grider, a machine adjuster at an envelope factory, purchased a commercial-zoned home in Indianapolis for his wife to operate her dog grooming business.  He made consistent and timely payments for years. However, divorce led to financial catastrophe.
"Divorce put me through the grinder," Grider said. "I'm still in bad shape."
His now-ex wife no longer used the property, but Grider still owned it and made payments for as long as he could. Eventually, continuing to pay on the vacant home just didn't make sense.
"The home was just sitting there, deteriorating rapidly," Grider shared.  He approached AHP, which worked with him to find a solution in the form of a short sale.
Grider still owed $29,000 on his mortgage, but could not find a buyer willing to pay more than $19,000 because the property's condition. AHP had acquired the mortgage for under $9,000 and approved the short sale, much to Grider's delight. This was a step on his return to financial stability.
"It's been a big relief. I think I'm in a better spot now. AHP took care of everything, and their people were really gracious about everything."
He is now turning his attention to his other mortgage – the one for the home he lives in with his 11-year-old daughter.
"One mortgage is easier than two," he said with a chuckle.
"I appreciate everything AHP has done for me. I don't know what I would've done if you hadn't. All I can say is thank you."