Flint, Michigan has a reputation as a tough city. The decimation of jobs in the 1980s when General Motors began outsourcing its factories led to high unemployment and poverty rates, creating a desperate environment. Today, Flint also has a high foreclosure rate with 1 in every 680 homes in some stage of the process. Foreclosures create abandoned homes, and abandoned homes not only blight communities, they attract criminal activity. In finding new owners for abandoned homes, AHP aims to rebuild and strengthen communities across the country.
Two years ago, Sarah decided to move from Arkansas back to Flint, the city she grew up in and the place where most of her family still resides. Sarah, 30, and her husband, 34, had never purchased a home before they came across an REO property owned by AHP on Craigslist. Sarah said she and her husband decided to enter homeownership and stop renting because they now have two sons who are 2-years-old and 8-months-old. "We want something of our own that our kids can be proud of and call home," Sarah said. "And not have to worry about moving or anything else."
Sarah and her husband looked at many properties in their search for a home, scouring sites like Craigslist and Zillow. Still, nothing fit or felt right, she said. Then when they came across AHP's listing and visited the property, something clicked.  "It was the right number of rooms, it had a big lot, and a basement. I wanted a garage and my husband wanted a basement, so it worked out for both of us."
Another advantage the couple found in AHP's property was its proximity to her family, an important detail for a stay-at-home mom trying to take care of two young children. "My step sisters live two blocks away, my dad lives 8 blocks away, my stepmom live 10 to 12 blocks away," Sarah said. "It's not the best neighborhood but it's not the worst, I guess you'd say. It's in the better bad part of Flint." Sarah's sister agreed with her assessment of the neighborhood as she helped tend to the children.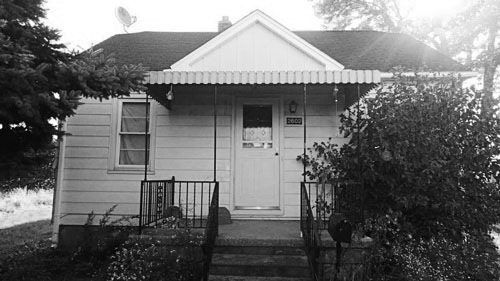 Though the price of the home was affordable and family surrounded them, Sarah and her husband realize they have a tough road ahead of them in making this REO into their home. "We live close to it right now, but it will be a while until we move in though I'm sure," Sarah said. "Our goal is to move in by Christmas."
Like many homes that sit vacant for extended periods of time, Sarah and her husband's new home was invaded by squatters who often strip anything of value from the property. "There is no bathroom in this house. There's no wires, there's nothing," said Sarah. "They stole the furnace, they stole the hot water heater, they stole everything. They even took the water meter from the basement."
Sarah said there is a lot of work to be done to get the home move-in ready by Christmas and they have hired a contractor to start making the necessary repairs. Yet Christmas for this family was tarnished by the criminal squatters who ravaged the home before she and her husband could get to it. The couple will have to pay nearly $1,000 just to get their water turned back on.
"That's a big hit, my kids aren't even going to have Christmas this year because of it," said Sarah. "They're going to have a home, but they're not going to get anything, outside of gifts from everybody else, because all of our Christmas money is now going to turn our water on."
Despite these challenges, Sarah and her husband realize that there is a light at the end of the tunnel and that owning this home will ultimately provide the stability they desire for their children. While renting the bottom half of a duplex in Arkansas, Sarah was forced to move at the drop of a hat when her landlord informed her the property had been sold and she had two weeks to move. Sarah also looks forward to the flexibility that she and her husband will have in controlling their own home.
"I want to be able to paint, if I want to paint. I want to be able to change out my appliances if I want different appliances," Sarah said. "I want to be able to do what I want to do in my own home."
Also, in addition to having control of her home and family nearby, Sarah is happy to be in an area of Flint that is safer than others.
"It's so crazy how one side of the street is better than the other. There's still break-ins in this area, but nothing like the other side," said Sarah. "The other side, my friend used to live over there, she moved out the day after when they pounded on her door and said they were coming back with guns."
Sarah found the process of working with AHP to be very pleasant and spoke highly of her experience with asset manager Freddy Constante, who assisted her in purchasing the property. "Freddy was very nice and very professional," Sarah said. "He answered my phone calls in a good amount of time and answered my emails as soon as he could. It was very nice, he was good to work with."
Sarah says there are many vacant homes in her area and the city of Flint is in the process of demolishing those that have been condemned. The couple plans to fix up the property and make it a suitable place to start their family, but Sarah is unsure how long they will live there and says they have plans to eventually leave Flint for greener pastures.
"We're going to see how it goes. Stay there for a few years and figure out if that's where we want to be or not," Sarah said. "Our ultimate goal is to be out in the country, preferably Michigan."