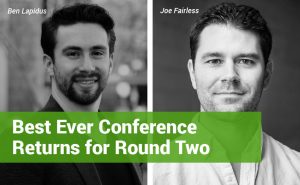 Joe Fairless and Ben Lapidus have set out to create a conference for real estate investors that is different than the ones they'd been going to. Last year's inaugural Best Ever Conference was a success, selling out and earning accolades from its attendees. Now, the duo is bringing the event back for a sophomore run, February 9th and 10th in Denver, CO.
Fairless is best known as the host of the podcast Best Real Estate Investing Advice Ever,the longest-running daily real estate investing podcast of all time. He began real estate investing because it offered freedom from an ennui-filled day job.
"I bought my first single-family house in 2009 with money I'd saved up from my day job," he said. "I was becoming apathetic and unfulfilled with my advertising job. I wanted to do something else."
Fairless eventually quit his job to become a full-time real estate investor and scaled up to multifamily units. He became so successful at it that he eventually began teaching a course to investors in New York City, which is where he met Lapidus.
Ben Lapidus is Director of Acquisitions for Spartan Investment Group. He became an entrepreneur in college when he started a company called the Green Program. "We were bringing university students to Costa Rica to learn about renewable energy, sustainability, and biological reforestation over a 12-day study abroad program," he said. "We were bringing over 500 kids a year."
Lapidus later sold his stake in the company and used the money to start purchasing properties. It was during this time, before he met Fairless, that the desire to create a new real estate investing conference arose.
"When I first reached out to Joe, I was already an experienced real estate investor," Lapidus recalled. "Certainly not institutional, certainly not advanced, but I was well beyond beginner. All of the conferences I found myself at, however, were either for institutions or beginners."
After reaching out to Fairless, the duo discovered that they shared similar goals. "The conference is for investors who are more experienced and want to take their investing to the next level," Fairless said. "The majority of the attendees are people who have done more than one deal and own more than one rental property already."
Both men partially attribute the first year's success to this factor. "It's not a typical real estate investing conference," said Fairless. "We don't have many beginners."
Fairless and Lapidus sought to distinguish The Best Ever Conference in other ways as well. One important idea to implement was an effort to personalize the conference content as much as possible, so as to provide more value to the attendees. Fairless said: "We want to make sure the attendees get exactly what they're looking for, and then some."
Going along with this, last year's attendees were asked to give feedback on each of the speakers. Fairless and Lapidus used this feedback to select the best-received speakers and invite them back for this year. Aside from these few, every speaker at The Best Ever Conference 2018 is brand-new.
Another contributing factor to the Best Ever Conference's uniqueness is their refusal to allow sales pitches from their speakers. "We maintain a monetarily neutral platform," Lapidus said. "No one is paid to speak onstage, and nobody pays us to speak onstage. There's no selling or backroom deals at all. Presentations are not sales pitches, they have to have value."
"The culture of the real estate investing world is very sales-y, very gimmicky, very monetization," he continued. "But this is changing, and we're going to take just a little bit of credit for that."
With just over thirty days left until the conference, more than 85% of available tickets have been sold. This is after capacity more than doubled from the conference's first year, to over 350. Both hosts are excited for what this means for the long-term potential of their conference.
"Throwing a conference is like having a baby," Lapidus joked. "Right after it's done, you never want to do it again. Then, sixty days go by and you don't remember the pain, and you start wanting to do it again."
They foresee the Best Ever Conference returning again next year, if 2018 is as successful as they forecast, and continuing to grow. For 2019, they would like the capacity to go all the way up to 1,000 people, which may necessitate a move out of Denver. Lapidus mentioned Las Vegas as a possibility for the next year.
The pair are optimistic about their conference because they are optimistic about the real estate market. "It's a great time to be a real estate investor," Lapidus said. "There are long strategies if you believe the market is bullish, there are short strategies if you believe the market is bearish. There are ways to make money in the market even if property values are going down. It's always a good time to be a real estate investor."