I can feel the tension escalating already. The sensation is all in my head, but that's what matters. I need to adjust my priorities, attitudes, and behaviors to conform to those of my peers. If I can't keep up with what's expected, I'll be letting myself and my cabin-mates down. "Focus, determination, optimism, hard work," I keep repeating to myself. If I stick to this formula, I can reach my goals. On July 1st, opening day at Camp NaNoWriMo, the peer pressure will become real.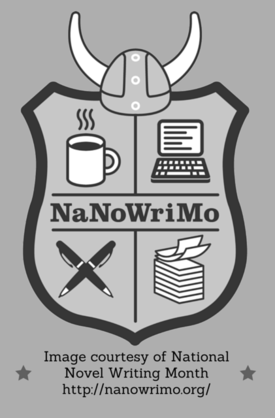 Camp NaNoWriMo is the summertime version of National Novel Writing Month and provides an online gathering-place and support group for writers working on any type of writing project. Novels, nonfiction, poetry, short stories, scripts and even "other" are all welcome. I participated in the July 2014 camp and generated over 70,000 words, which later became my first book, Burn Zones. This July, however, I chose the "other" category: I have committed to writing 23 blog posts, one for each business day in July, with an average of 750 words each.
Camp is like a 21st-Century online version of the great artists and writers retreats, such as Yaddo, McDowell Colony, and Ragdale. The difference is you don't have to move there for the project time and put your regular life on hold. All you need to do is create a free online account.
Camp happens in July and, because it's summer, the environment is a little more relaxed than November, when all participants commit to completing a 50,000-word novel during the month. At Camp, word-count goals can be as little as 10,000 words and as big as 1 million. My 23 blog posts should total a relatively piddly 17,250-words. Still, the post you are reading is only my 20th of 2015. Hence, I can already feel the adrenaline amplifying in my blood. I either triumph, or publicly come up short. The positive peer pressure is undeniable.
My peers will feel the same compulsion to realize their goals. Camp exists to support writers in their work by offering a social network of people who are all in this together. I want all my virtual cabin-mates to succeed and will try to help them overcome writer's block, resolve a character development issue, or just avoid life's distractions. I can expect the same in return. If diversions such as BBQ's, movies, or a Cubs game try to entice me away from my keyboard, I'll either fit them in around the writing or put them off until August.
NaNoWriMo dates to 1999, when a group of 21 San Francisco Bay Area writers banded together to challenge one another to spend July working on their long-postponed writing projects. The founders freely admit that they didn't write great works of art. But they did write.
The support they drew from one another — reading and critiquing each other's work, watching everybody go through the same ups and downs, crossing the finish line together — is about so much more than only writing.
In 16 years, hundreds of thousands of writers have participated in one or more of the three annual sessions: NaNoWriMo in November or Camp NaNoWriMo in April and July. The total participants in November 2013 exceeded 310,000 and Camp 2014 topped 55,000.
There are some distinguished alumni who hit the writer's jackpot. Among them is Erin Morgenstern, whose 2011 novel "The Night Circus" is something she worked on during NaNoWriMo. A fantasy novel set in London in the 19th Century, the book has received many awards, was on the New York Times Best Seller list for seven weeks, and is being made into a movie.
But there are many, many more writers for whom such an outcome is only a fantasy. For tens of thousands, going to Camp is about setting and keeping the goal of writing the stories that have been percolating inside them.
The peer pressure at Camp NaNoWriMo may be just what's needed to get the words out.
Tags: blogging, books, Burn Zones, nanowrimo, Writing a Book, writing camp, Writing Tips