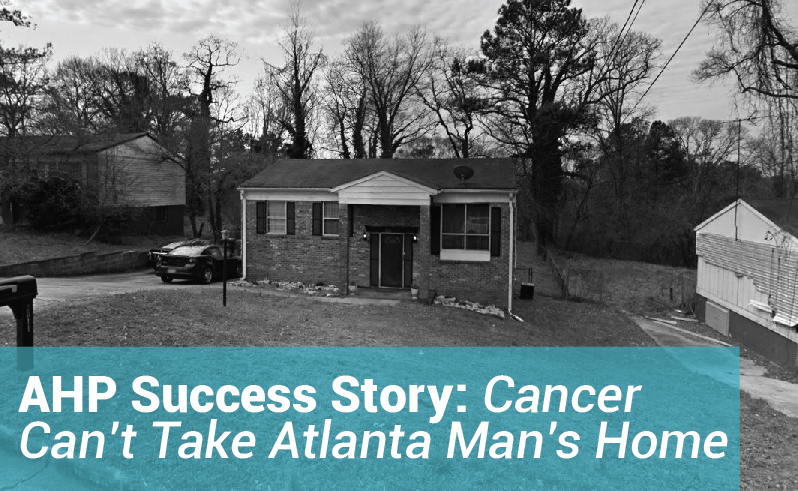 A battle with prostate cancer almost cost Joe Willie Hart the Atlanta home he bought nearly fifty years ago.
Hart was diagnosed and unable to continue working his job with Enterprise Rent-A-Car. It was during his illness that he fell behind on his mortgage.
"I got sick, and I fell behind on everything. I couldn't work. It's been going on for a little over three years."
Hart had his prostate removed and is now cancer-free, but complications from the surgery stopped him from going back to work. He began planning for the worst: "I thought I'd never be able to catch up with the interest and fees. I was afraid I would have to move in with my sister." A move like that would have been incredibly difficult for Hart, who is nearing 80.
"I've been in that house ever since 1970," he said. "I bought it in my twenties. My three grown daughters all grew up in that house."
Even when Hart recovered enough to go back to work, his future in his home was unsure. That is, until AHP bought his mortgage and offered affordable modification terms.
We offered to settle all of Hart's delinquent charges for $2,000 and drop his monthly payment to $673 for the remainder of his term. He was comfortable with these terms: "AHP and the servicer were amazing. They handled it really great and I appreciate that.  I'm happy with it."
Now that his life is back on track, Joe Willie Hart plans to celebrate with his daughters by having a barbecue. "They're jumping up and down," he said with a chuckle. All three of his adult daughters live within twenty minutes of the Atlanta home they grew up in.
We asked Hart for any advice he might want to offer to other homeowners dealing with similar situations. He thought about it, then answered confidently:  "I would just tell them, work with your mortgage company, work with your investors. You never know what you're gonna be able to work out."
We wholeheartedly second that notion.