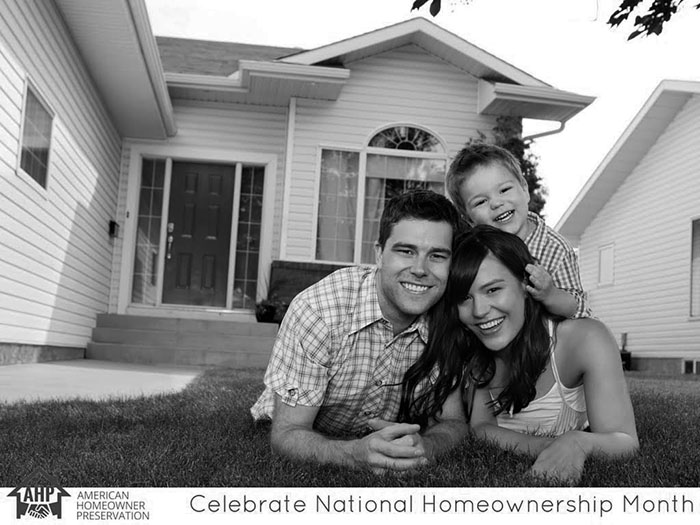 June is National Homeownership month, a time for reflecting on the social, political, and personal benefits of homeownership and its importance to the American Dream.  We at American Homeowner Preservation believe this month calls for a celebration!  Throughout the month we'll be posting stories, articles, and other content celebrating homeownership and some of the people we've helped over the years.
Join us in celebrating National Homeownership Month by investing $100 or more in our mission to help families at risk of foreclosure.
American Homeowner Preservation emerged in the wake of the 2008 financial crisis, a time millions of families faced foreclosure, with a single goal:  save as many families from this terrible loss as possible.  We raise money from our investors, buy the mortgages that people can't afford to pay, and help struggling homeowners stay in their homes.
We do all of that while providing solid returns to our investors and still turning a profit.
AHP began as a nonprofit, and then changed into a for-profit hedge fund that raised money exclusively from the wealthy.  Now, in 2016, we've opened our investments to everyone, regardless of income or net worth, and lowered our minimum investment to only $100 to make this opportunity available to as many people as possible.
While the economy has improved since the Great Recession, millions of homeowners still face uncertainty.  In 2015, an estimated 13% of homeowners were "seriously underwater," meaning the value of their home was less than what they owed on their mortgage.  As is the wont of horrible statistics in America, this problem disproportionally affects low-income neighborhoods of color.
National Homeownership Month was instituted to celebrate homeownership and its immeasurable value to American families and communities, and to the American dream itself.  Studies have shown that higher rates of homeownership lead to better educational opportunities, civic participation, economic growth, and access to healthcare.  It makes sense:  when people own a stake in a community, they are more likely to be personally invested in its success.
Losing a home, on the other hand, can be devastating; not just financially, but also personally.  Foreclosures and vacant properties also damage the communities they're in by lowering the value of other homes in the area.  For these reasons, American Homeowner Preservation's mission to prevent foreclosures wherever possible is not just a smart financial move, it is a moral imperative.
This June, celebrate National Homeownership Month by saying "I'm in," and join AHP on our mission to save families all across the country from foreclosure.  Anyone can invest, and our minimum investment is staggeringly low at only $100.
You'll be earning interest and helping families in need.  Even more importantly, you'll be safeguarding the American Dream.
Sign up at www.ahpfund.com
http://www.nbcnews.com/business/real-estate/13-percent-homeowners-are-seriously-underwater-mortgages-n401081
http://www.huffingtonpost.com/jorge-newbery/some-homeowners-may-never_b_7604082.html
http://www.realtor.org/sites/default/files/social-benefits-of-stable-housing-2012-04.pdf
Tags: American dream, American Homeowner Preservation, crowdfunding, Homeownership, National Homeownership Month, real estate, Reg a, regulation a, small business, Social Impact, social impact investment