In the great tradition of lemons to lemonade, five crowdfunding platforms have banded together to buy a sixth – one that was attacked by sharks on national television – and turn it into an educational space for the industry it inadvertently smeared.
When Tycoon Real Estate's CEO, Aaron McDaniel, appeared on the ABC reality show 'Shark Tank' in January 2015, he was savaged by the celebrity panelists. As I wrote in June, McDaniel went onto the show earnestly believing he was there to impress potential investors, but his impression after the show was that in fact, "I was speaking to entertainers. I was baited to create interesting TV."
The panelists questioned McDaniel's integrity, wondered if he had a criminal record, pronounced the very concept of real estate crowdfunding risky and even "spooky." They implied he may be a swindler, worried that he was out to snatch Grandma's hard-earned savings, and generally made mincemeat out of a guy who was honestly trying to attract investment to his innovative business.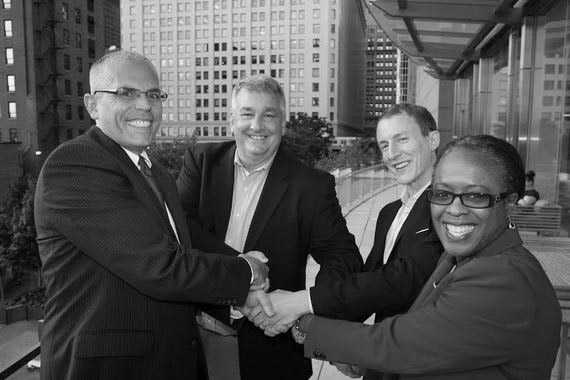 Crowdfunding may have seemed 'spooky' to the Sharks, but it's a booming, perfectly credible alternative to traditional means of financing a business. Its major difference from established methods of raising capital is that it relies on the Internet and, let's be honest, the Internet is transforming virtually every industry we know of. It's the future, and the present.
After being chewed up and spit out by the Sharks, McDaniel hit another pothole. His under-prepared site pooped out under the pressure of the 50,000 unique visitors who checked out Tycoon after watching the episode. His great chance at capturing big traffic was wasted.
Tycoon, an early company in the real estate crowdfunding market, offered both residential and commercial real estate investment opportunities to its user base, providing an average annualized return of 10% since its inception.
But, after the grilling McDaniel received on 'Shark Tank,' it all sank. Until this week, when Tycoon was brought back to life under new ownership. American Homeowner Preservation, Peer Realty, Patch of Land, CrowdFranchise, and EquityRoots announced a joint acquisition of Tycoon. The plan is to turn it into an educational, informational space that will help people find, and understand, the onramps to crowdfunding.
"There is a larger awareness of real estate crowdfunding thanks to the 'Shark Tank' episode featuring Tycoon," said Jason Fritton, CEO of Patch of Land. "Though it didn't turn out well, we have an opportunity to set the record straight about the regulatory environment that allows for crowdfunding and how successful companies are leveraging the JOBS Act and SEC regulations to crowdfund hundreds of millions of dollars in real estate."
The acquisition gives the leaders in the crowdfunding industry a unique opportunity to "change the Tycoon portal into an education platform to show the world why the Sharks were wrong about the industry," said Jordan Fishfeld of Peer Realty.
Mandy Calara, CEO of CrowdFranchise, added that "with the recent approval of Title III, the timing is ideal. Now, almost anyone will be able to invest" via crowdfunding platforms. The Securities and Exchange Commission approved Title III of the JOBS Act on Oct. 30, opening up crowdfunding to non-accredited investors.
"There's an instinctive sense of progress in letting people go online and find local investments in hotels, real estate, or other franchised businesses," said Bhavik Dani, Dealflow Organizer at EquityRoots.com. "We are excited to join four other platforms which share a common vision: that online capital formation is efficient, effective, and a great way to involve the community."
There's a powerful sense of community in this nascent industry. To see five platforms collaborate on this effort foretells a bright future for crowdfunding.
View this and other posts by Jorge P. Newbery at http://www.huffingtonpost.com/jorge-newbery/
Follow Jorge Newbery on Twitter: https://twitter.com/JorgePNewbery
Tags: acquire, crowdfunding, leaders, real estate, shark attack, tycoon