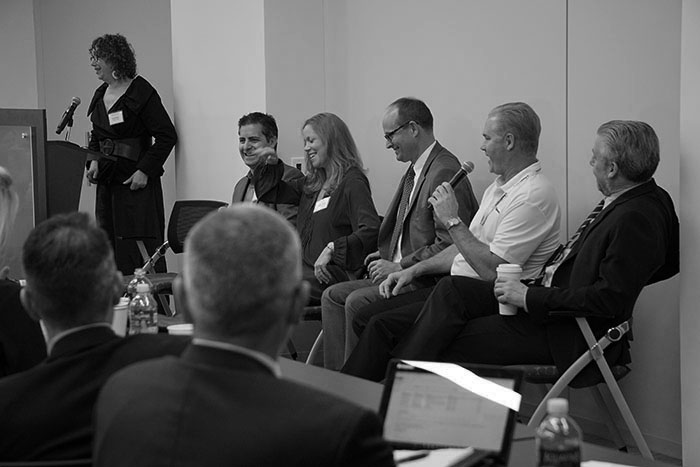 Photo Credit: M. Cruz (773 Digital)
Crowdfunding is predicted to account for more funding than venture capital in 2016. This relatively new tool is rapidly emerging as a powerful capital-raising option for startups, small businesses, and real estate operators. Equity crowdfunding, or investment crowdfunding, empowers investors to fund ventures in return for equity or debt. But with countless deals available on a wide range of online platforms, would-be investors may not know where to look for deals, or may feel overwhelmed by the abundance of choices. In order to help potential investors navigate this sea of opportunities, companies are rising up to help cut through the noise.
Calling itself a "private investment aggregator," Access Invest is a platform that organizes and personalizes deals. Using a mobile app, users are able to efficiently swipe through investment options. CEO and Co-Founder Aaron McDaniel explained that "there are thousands of online investment portals and it's hard to keep track of them. To help people curate their own deals, Access Invest aggregates investment opportunities all in one place based on the interests of the investor."
Keeping up with recent legislation, Access Invest is inclusive to non-accredited investors. The enactment of Title III (Regulation Crowdfunding) and Title IV (Regulation A+) of the JOBS Act now allow non-accredited investors to participate in investment crowdfunding, expanding choices beyond traditional options such as stocks, bonds, and mutual funds. "We have a really good mix of accredited and non-accredited, and that is because there is a growing number of Title III and A+ deals," said McDaniel. "We learn if the user is accredited or not, and to the non-accredited investor, we only show deals that they are qualified for. We are able to appeal to everybody."
While Access Invest aggregates deals from various asset classes, other platforms are more specialized. Connected Investors features only real estate-related crowdfunding opportunities. The company's chief technology officer Marty Coyne explained that "Connected Investors is an online community and marketplace. There are different components of our website: one helps investment property buyers find financing from crowdfunding portals and other sources, another lists available investment properties, and then there is our 'aggregated crowdfunding marketplace.' If you go to individual crowdfunding sites, you get to see all the properties and deals that one site has. If you go to our aggregated crowdfunding marketplace, you see deals from multiple sites."
Property.com also aggregates real-estate opportunities, sourcing commercial investment offerings from over 100 crowdfunding platforms and presenting them in one convenient marketplace. Like Connected Investors, Property.com also provides funding options to property buyers. They aim to "bring a fragmented industry into the 21st century."
In 2014, CrowdRabbit emerged as an early leader in the crowdfunding aggregation scene. CEO Robert Finlay explained, "As crowdfunding becomes more and more popular, we've seen the need for better tools for all parties involved, including investors, project creators and others, who frequently take to the Internet to source or promote investment opportunities. We knew we wanted to create a solution that would bridge the gap between investors and entrepreneurs. CrowdRabbit accomplishes this goal." Despite the platform's wide audience and media attention, CrowdRabbit fizzled out as quickly as it rose to acclaim. The site is now defunct, leaving one less aggregator in an already small industry.
Coyne attributed CrowdRabbit's dissolution largely to their targeted revenue source. "They went out because their business model was dependent upon their aggregated crowdfunding marketplace earning money." To generate revenue with Connected Investors, Coyne takes a different approach. "We don't charge anybody for the aggregated crowdfunding marketplace," he said. "We don't charge a listing fee, and we don't charge money when deals get funded. It's purely a free service. We earn revenue through other services on the site."
With a plethora of opportunities being offered on an expanding number of investment crowdfunding platforms, aggregators enhance efficiency and convenience for investors interested in offerings from multiple sources. Access Invest, Connected Investors and Property.com are pioneering the aggregation model and, with their help, crowdfunding may realize World Bank's global forecast of up to $96 Billion by 2020. "I think its exploding right before our eyes," said Coyne. "I think this is a revolution that will not be turned away."