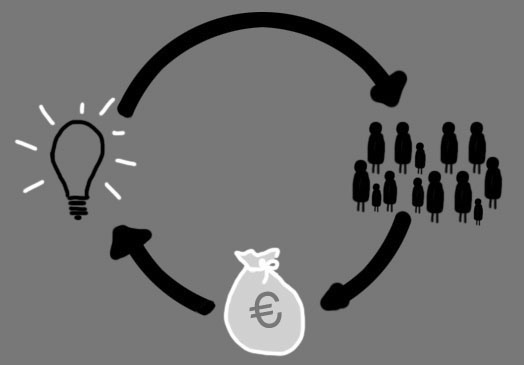 Ever since President Obama signed the JOBS Act in 2012, the market for equity crowdfunding has grown steadily.  Now, in 2016, funding raised through crowdfunding is expected to pass that from venture capital.
At the center of this revolution in business financing are the SEC's recently enacted rules known as Regulation A+, a provision under Title IV of the JOBS Act that allows for companies to generally solicit and raise money from non-accredited (in other words, not the wealthiest 3% of Americans who are accredited) investors.  This has opened up opportunities for nearly anyone to invest in diverse new startups executing strategies ranging from real estate to aviation to medical marijuana.
Since Regulation A+ came into play in June of 2015 over one hundred companies have filed for approval, with dozens already qualified and sixteen raising money at this very moment, the newest of which is my company, American Homeowner Preservation 2015A+ LLC, which has just opened up with a minimum investment of only $100.
In celebration of this momentous next step for AHP, I decided to take a look at the fifteen companies that beat us to the punch.
360 Sports aims to be "the global leader in comprehensive athlete development."  They sell sports apparel and training technology and provide training, education, and management to athletes as young as 4 years old. Their minimum investment is $50.
Allegiancy, Inc. is a property management firm specializing in commercial real estate.  Their income comes from fees and advisory services, and their minimum investment is $1,400.
BeautyKind is an online retailer of beauty products that offers competitive prices and donates 5% of the money from every purchase towards causes such as LookGoodFeelBetter, the Lupus Foundation, the Starkey Hearing Foundation, and the American Cancer Society.  Their minimum investment is 100 shares for $625.
CMX Gold and Silver Corp is attempting to reactivate a silver-lead-zinc mine in southeastern Idaho.  The price per share is 7.5 cents and there is no minimum purchase.
Elio Motors is an automobile manufacturer that refused to believe the American automobile industry was dead.  They are the makers of the Elio, an affordable three-wheeled two-seat vehicle that can achieve fuel efficiency of up to 84 miles per gallon. Minimum investment is $600.
The Fair Haired Dumbbell is a project of experimental real estate company Guerilla Development.  The 56,000 SF office/retail building in Portland, Oregon boasts two six-story towers decorated with original, hand-painted artwork as well as sky bridges on every level.  Guerilla is asking for minimum investments of $3,000.
Fundrise is a real estate investment fund that was among the first to raise capital under Regulation A+.  Their mission is to "give everyone the opportunity to invest directly in high quality real estate, without the middlemen."  The minimum investment is $1,000.
Generation Income Properties REIT is a real estate investment firm that specializes in single-tenant commercial spaces with long term leases.  The price per share is $5 with no minimum purchase.
Groundfloor describes itself as "the first and only real estate lending marketplace open to non-accredited investors."  Their minimum investment is $10.
Med-X  aims to "revolutionize the cannabis lifestyle through education, innovation, and cultivation." They also maintain a media/publishing division called The Marijuana Times. Fittingly, their minimum investment is $420.
Punch TV Studios is an independent broadcast network with the aim of bringing new, diverse programming (from reality shows to late night to scripted comedy) to a wide audience, as well as taking advantage of their ability to be responsive to their consumers.  Their minimum to invest is $1.
StreetShares is a community that offers "Veteran Business Bonds. Life, Liberty, and 5% interest for all." Funds are loaned to small businesses, primarily those owned by Veterans. Minimum investment is $25.
Virtuix offers the Omni, a large-scale virtual reality gaming device that allows players to walk, run, jump, and even sit in their chosen virtual world.  Other practical applications for their technology include fitness, training simulations, and virtual tourism. Having already successfully raised over a million dollars through Kickstarter, supporters can now invest, with a minimum of $1,000.
WayBetter creates "games" or "bets" to help people achieve goals like losing weight or quitting smoking.  Their first game, DietBet, boasts over 300,000 players in 90 countries.  Minimum investment is $1,000.
XTI Aircraft Company is developing the Trifan 600, which was voted one of the 100 greatest innovations of 2015 by Popular Science.  The six-seat fixed-wing airplane "combines the speed, range and comfort of a business jet with the ability to take off and land like a helicopter." Minimum investment is $350.
Finally, there is American Homeowner Preservation 2015A+ LLC, the latest of the Regulation A+ field to start accepting investments.  Our mission is simple:  keep as many families from losing their homes as possible.  We purchase delinquent mortgages from banks at big discounts and offer sustainable solutions to struggling homeowners.   Regulation A+ allows many more investors to participate.
Regulation is defined as "a rule or directive made and maintained by an authority" and typically implies greater constraints and more limits. However, Regulation A+ is removing constraints and opening markets. Sounds more like Deregulation. Either way, the SEC's new rules deserve an A+.
To invest in AHP, please see our website, ahpfund.com.
Tags: American Homeowner Preservation, crowdfunding, real estate, regulation a, Securities and Exchange Commission, small business