ING Direct, the Dutch-bank and internet-based mortgage lender, has objected to American Homeowner Preservation's program to keep families in their homes, and ING will no longer consider AHP short sales. "ING DIRECT will also be adding your company to our exclusionary list as your company strictly finds investors to keep sellers in their home, while the bank takes a significant loss.  This is against ING DIRECT's short sale policies and guidelines, and as such you will no longer be able to work on this short sale file or any future ING DIRECT accounts," Adam Agostinelli of ING Direct Retail Asset Management advised in an email to AHP.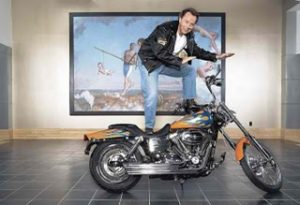 "We are disappointed in ING's failure to recognize that AHP's program can reduce ING's losses and concurrently keeps struggling families in their homes," stated AHP's Michelle Weadbrock.
Although ING Direct President Arkadi Kuhlmann (pictured atop motorcycle) has rightfully bragged of ING's lower-than-average 2.88% default rate, ING did require a bailout by the Dutch government and has recently been accused of violating federal truth-in-lending laws. In addition, Kuhlmann states that "the European Commission has mandated that we be sold by 2013" as part of a move to break up large financial institutions. Is now the time  for ING Direct to amend their short sale policies so that maximizing ING's recovery while allowing families to remain in their homes is an option?