Eula and her husband live in the kind of neighborhood many of us reminisce about and grew up in ourselves, where neighbors know each other and look out for each other. "We have good neighbors, there's about five of us and we all try to keep everything up– our yards and all that," said Eula, 66. This is the type of neighborhood where neighbors call you to let you know you left the lights in your car on. A place that truly feels like home. "We have those type of neighbors, and like I say, we don't want to go anywhere else."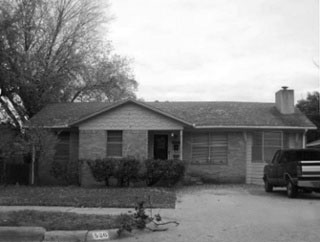 Eula and her husband purchased their home just outside of Dallas, TX in May of 1994 with a $5,000 down payment from a man named Mr. White. "It's a mansion to us," Eula said with a laugh. "It's small and I would like to have more closet space, but I'm not willing to move and all that just for more closet space." Yet Eula and her husband never anticipated when they purchased their home from Mr. White that they would deal with more lenders than they could keep track of. They did not imagine they would face every parent's worst nightmare when they had to mourn the death of their own son five years ago. They also never imagined that the specter of being forced from their home and community from foreclosure would loom.
"Since we've lived in our home, our loan has been sold so many times. Every time it's sold, they put something else on it, and it's just unreal," said Eula. She recalls six months after making the down payment on their home their loan was sold. Though she cannot remember the exact number, Eula believes her loan has been sold at least six times. She believes the confusion between lender transfers and changes to loan terms are the reasons they have not paid off their mortgage yet, after 19 years.
Though their loan was sold time and again, Eula and her 71-year-old husband continued to make their payments. When her son passed away five years ago, however, Eula struggled and the troubles with her mortgage started. "I went down for a little bit, it just took a toll on me," Eula said. "It was just real hard, so that had a lot to do with it."
Further contributing to the couple's struggle to manage their mortgage, they both experienced job loss. Eula and her husband have since retired, but she was in dentistry for 33 years. Around the time of her son's death, she lost her job. Eula's husband, a long-time iron worker and former professional bull rider, also lost his job at one point. Eula admits that things have been very difficult for her and her husband since the death of their son, but she relies on her faith to stay positive. "God is good, and comes through. I know my son is in a better place now," said Eula. "I'm a lot better, and God is good, so maybe everything will be much better."
When AHP acquired Eula and her husband's loan, the company offered them a variety of options to settle their delinquent payments. Making it clear they wanted to stay in their home, Eula and her husband chose to modify their mortgage and could settle their delinquent payments for $2,000. The couple initially had a hard time coming up with the settlement payment, however, and Eula's husband ended up in a dragged out court process trying to get money from his IRA.
Despite this bump in the road, Eula found that AHP was willing to work with them during the process and they were eventually able to start making their payments. Once the initial payment went through, AHP was able to reduce the couple's monthly payments from $414.00 to $276.00. "We're happy you worked with us and let us stay in our home," said Eula, who was able to work directly with AHP Asset Manager Freddy Constante and the company's founder Jorge Newbery. "Ya'll have worked with us and we appreciate it, and I don't mind telling anybody that ya'll have been real good, and you just don't find that now-a-days."