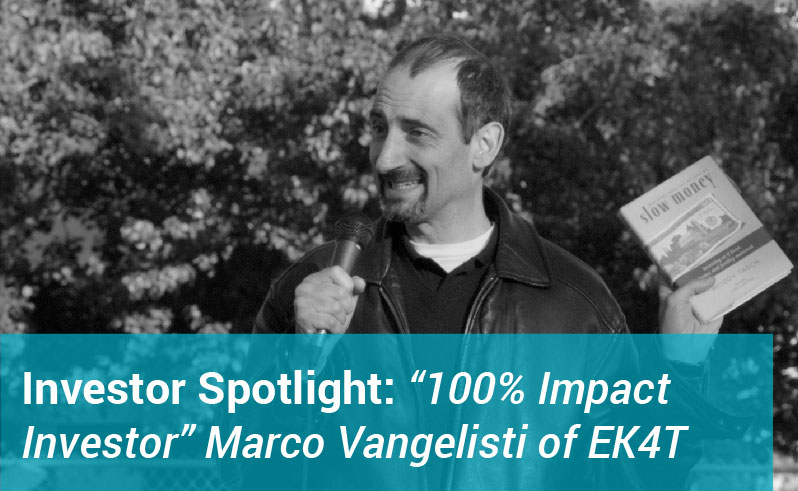 Marco Vangelisti came to a sickening realization in the 1990's, as a manager of a quantitative investment fund. Noticing that the fund had been beating the market for several years, he investigated.
"I was curious one year to find out how we achieved such an amazing return. Some of our best-performing stocks were palm oil companies that were destroying the rainforests."
Marco grew up in northern Italy and spent much of his childhood outdoors. This fostered a passion for nature and the environment that he carries to this day. He realized that the work he was doing was incompatible with his values.
"We were managing the money of environmental foundations tasked with preserving those habitats, and yet once they give the money to us we were helping to destroy the very things those foundations were created to protect," he recalls.
Marco knew that he had to make a change. He divested all of his money and then set about a new task:  re-investing all of his money in socially and environmentally responsible endeavors. He committed to become what he calls a "100% impact investor."
"Environmental issues are linked to social issues," he says. "The most pollutive factories are in poor neighborhoods. We have got to stop extracting from poor communities and communities of color."
Marco became a founding member of Slow Money, which fosters investments into food production at the local level. Marco says that about 25% of his portfolio is in local businesses, which helps him to be sure that the businesses are doing good in their communities.
"Local investing is line-of-sight investing. You can be sure, and you can directly experience, what your money is doing." For the same reason, Marco sticks to direct investing and strives to develop personal relationships with entrepreneurs.
But investing for impact is not only about making Marco feel better. He sees it as a way for him to build "an alternative to our current economic system."
"We're dealing with capitalism," he says matter-of-factly. "Capitalism has a couple of key features: one is the commodification of labor and nature. In other words, you can buy and sell a local ecosystem, and because of private property rights, you can destroy it if you want to. And you can buy and sell labor, which means that as productivity increases you need less people and their worth as a commodity goes down. That's why we have a lot of unemployed people and very low wages in this country."
Marco invests in enterprises that do not suffer from what he sees as the structural problems with capitalism. "When I see companies that don't treat labor as a commodity – such as worker-owned cooperatives, where they're never going to pay themselves as little as possible – that is a systemic example of a post-capitalist economy."
When asked what a "post-capitalist economy" might look like for investors, Marco was prepared with a tough, yet thought-provoking answer. "The other thing about capitalism is that capital calls the shots," he says. "That's a problem."
"But when you invest in a co-op, capital comes in as a tool and not a master. When you invest in a co-op, you don't have voting rights. Most investors in co-ops are a particular class of members with no voting rights, but get a preferred treatment when dividends are issued, capped at a certain percentage. The difference is, you bring the capital to see that economic activity thrive, but then you let the people running that activity make decisions."
"We're used to the idea that capital calls the shots, but it doesn't have to."
Marco suggests that it is important for all investors to make the change to socially responsible investing, even if they are not yet ready to get on board with his "post-capitalist alternatives."
"The financial industry is so opaque that if you don't pay attention to what your money is doing, chances are, that money is doing damage," he says. "Exploiting the environment, extracting from communities, polluting, destroying things of value."
But Marco is still a believer in the power of capital to drive positive change as well through impact investing. To that end, he has founded Essential Knowledge For Transition, an organization which teaches investors how to "direct our money towards worthy and positive businesses."
AHP is proud to be one business Marco deems worthy. "I was thrilled to find out about AHP," he told us. "We've been exploiting poor communities for a long time. First with redlining, then with subprime mortgages and predatory lending, not to mention pawn shops and payday lending…we've been exploiting these communities viciously."
"But," he adds, wanting to end on a more positive note. "AHP is actually helping to solve the problems investment capital and institutional injustice have created in communities of color."
"Impact investing is building the world we want to live in, as opposed to destroying it in the name of financial returns," he says. "We have to move our money in a direction that allows for a better society and a better world to emerge. That's the first step."