The buildings have all been torn down, the residents scattered to other homes, and the political theatrics of Columbus, Ohio officials have faded into the rear view mirror. However, for those of us who were part of Woodland Meadows, it's still a vibrant place in our memories.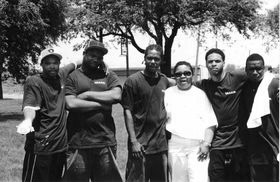 At a reunion this Sunday at Book Loft in Columbus, we'll talk about the whole saga, both the uphill struggle to improve an embattled housing development formerly nicknamed 'Uzi Alley,' and the rocky slide downhill after an ice storm delivered a fatal blow.
I purchased crime-wracked Woodland Meadows for $12.5 million in 2002, driven by my vision of transforming this 1,100-unit affordable housing complex, one of the nation's largest, into a resident-powered self-supporting asset to the community. Formerly called Greenbrier, the 52-acre property on Columbus' east side featured 122 three-story buildings. Although it was only 50 percent occupied at the time, due to poor maintenance and poorer management, it was like a small city, with well over a thousand residents.
With the help of an army of tenants, we transformed the property into something great. It started with John Gregory, a former resident and the unofficial mayor of Woodland Meadows, whom I hired as the manager of the property.
One of John's first proposals was counterintuitive: to make Woodland Meadows safer, he suggested getting rid of the security force. John's rationale was that the all-white armed security officers were frequently bullying the largely African-American population, often stirring up as much trouble as they defused. We were paying a 12-man security team, yet had one of the highest crime rates in the city.
John's alternative was an unarmed Community Patrol, made up primarily of residents. Imagine taking the police out of Ferguson, Missouri, and asking the residents to look out for each other. Would the result be bedlam, or would community members step up and do a better job of policing each other? At Woodland Meadows, residents took control of their community and the crime rate plummeted.
However, to sustain a metamorphosis, the residents needed jobs. The only Woodland Meadows percentage rate higher than the historical crime rate was the sky-high unemployment rate, particularly for young African-American men. The odds of employment were stacked against many of Woodland Meadows' residents, especially those with a criminal record or limited work experience.
In response, John started the TEACH class. We were spending millions to complete renovations to Woodland Meadows, so we asked contractors to train residents and then hire them for labor and apprentice work. As word of mouth spread that graduates were really receiving paying jobs, the classes were soon at capacity. Men and women of all races and ages participated, and shirts, slacks, and even neckties soon replaced baggy pants. The energy of the program proved infectious.
In short order, the majority of Woodland Meadows' contractor crews and office staff were made up of Woodland Meadows' residents. Some positive media reports followed and helped attract other businesses willing to hire TEACH graduates. Ironically, while Arby's may not have been willing to hire Joe the felon who lived at Woodland Meadows, Arby's was willing to hire Joe's Lawn Service, owned and operated by Joe the felon who lived at Woodland Meadows.
"People felt like they were part of a transformation," participant Jimi Mock said later. "There were a lot of young black guys, including me, that got an opportunity that they probably wouldn't have got anywhere else at that point. Helping people to learn a trade and actually paying them a decent wage. It was cool, man. It was probably the best experience I ever had."
Sadly, the experience was short-lived for Jimi and hundreds of residents and workers. An ice storm on Christmas Eve 2004 devastated Woodland Meadows and shattered our efforts. Despite attempts to rebuild, disputes with the insurance company and government officials led to the closing and eventual demolition of Woodland Meadows.
I experienced first-hand the wrath that can emanate from the underbelly of municipal politics as Columbus Mayor Michael Coleman, in an apparent quest to gain control of one of the largest parcels of property in the city, labeled Woodland Meadows "Public Enemy #1" and publicly "declared war" against me. The city eventually gained ownership of Woodland Meadows and I departed Columbus in disgrace.
In the end, I lost everything. For years, I tried not to think about Woodland Meadows as I focused on rebuilding my life. However, over the last year, I laughed and cried as I looked back to write Burn Zones: Playing Life's Bad Hands, which chronicles my rise and fall, and that of Woodland Meadows.
This Sunday, I expect a flow of both laughter and tears as former residents and workers gather to remember not only the losses, but also the victories scored, the relationships built, the job skills developed and multiplied, and the time, however short, when Woodland Meadows was a stellar example of community empowerment.
We will celebrate and mourn Public Enemy #1: Woodland Meadows.
View more posts from Jorge P. Newbery at http://www.huffingtonpost.com/jorge-newbery/
Tags: Burn Zones, colombus, development, enemy, housing, meadows, mourning, ohio, public, woodland