I am a debut author hawking a self-published book. Not exactly the ingredients to attract a throng of buyers clamoring to get me to sign their book. In fact, not really enough to get most book stores to even agree to host a book signing.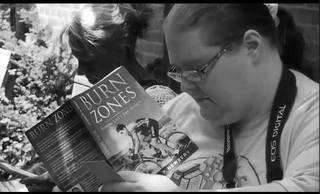 I live in Chicago, but most of the chaos in my book, Burn Zones, occurred in Columbus, Ohio, where I gathered some renown as a businessman who failed spectacularly.
What I didn't want to add to my resume, however, was "author whose book signing failed spectacularly."
I was able to parlay my past disgrace into my first book signing when the venerable Book Loft, the 32-room literary wonderland of Columbus, agreed to host.
Great, but what if no one showed up? I called my friend John and asked him for help. "Give people a reason to show up," he said.
"They get to shake my hand and get their book signed," I said. "Isn't that enough?"
"Give people a reason to show up," he repeated, as if he hadn't heard me.
I suddenly flashed back to school dances, where I stood all alone with my back against the wall, sweating profusely at the prospect of asking girls to dance. Now, I'd be at the Book Loft, alone with my back against the wall, standing next to a stack of my untouched books, sweating profusely as I offered to sign my book for disinterested passersby.
John was right: I needed to give people a reason to show up.
A decade ago, I was worth tens of millions when I purchased one of the country's largest apartment complexes, the 1,100-unit Woodland Meadows. The name evokes tranquility, but its nickname — Uzi Alley — better depicted the strife that gripped the complex.
I set out to engage the residents and troublemakers in an effort to transform the property into something great. Naive, idealistic and utopian would all be apt words to describe my efforts.
I gave jobs to murderers, thieves, and other felons and engaged them in the turnaround. I fired the armed security force and replaced them with a community patrol made up of residents. Naive, idealistic, utopian — but it worked. Two years after my acquisition, Uzi Alley was dead and Woodland Meadows became an apt moniker for the place.
Sadly, shortly thereafter, a natural disaster devastated Woodland Meadows and triggered my financial collapse.
All of that is laid out in the book, which I was coming to Columbus to talk about and sign. If anybody else showed up.
What if I reached out to those who were part of the turnaround efforts? That might attract some people to the book signing. I started a Woodland Meadows Reunion Facebook page and invited several people. Soon, they invited several more and the word spread. Within weeks, we had 50 RSVPs. "Give people a reason to show up," I kept reminding myself. This, coupled with my fear that no one would show up, fueled my efforts. I sent a copy of my book to the Dispatch, Columbus' primary newspaper. I emailed the local TV news stations, and posted the signing on all the Columbus-area event sites. I was coming back to Columbus. I hoped someone cared enough to pay attention.
As the July 12th book signing date neared, there was no press coverage. At least I still had the Facebook RSVPs. I posted some old Woodland Meadows photos to help engage my audience. The reality is that my event was on a summer Sunday afternoon and I was competing with other outlets for people to spend their time. Even with 50 RSVPs, I'd be lucky if a quarter actually showed up.
On the Wednesday five days before the signing, the Dispatch called to schedule an interview. "Maybe book buyers will be clamoring?" I thought, optimistically. The interview went fine. I checked the paper online first thing Friday, but no article. "Maybe my interview wasn't interesting enough?" I worried. On Saturday morning, I got up and went to my computer. As I scrolled, I found what I sought: "Book Recounts Woodland Meadows Story" in the Dispatch. "Okay, good. More people will know I'm coming," I thought, as my wife and I prepared to fly to Columbus.
As the 1pm start time struck, a handful of attendees had gathered and I was greeting, sharing memories, and signing books. People were buying my book and I was signing. "This is so cool," I thought. People came up to me who I had no prior connection with and said they had read my book, enjoyed it, and even found strength in it to help face their own challenges.
Then, Channel 10 News showed up.
"This is really cool," I thought.
Did I attract a throng of book buyers clamoring for me to sign their books? No. Maybe two to three dozen showed up, from curious Dispatch readers to a murderer who was part of Woodland Meadows' turnaround and replied to the Facebook invitation. There were even a few who had already read Burn Zones and really wanted to meet me and get their copy signed.
The latter was the smallest contingent, and proved that I really did need to give people a reason to show up.
My next book signing is 6:30PM on Wednesday, Aug. 12 at City Lit in Chicago. My reason for people to show up this time? I'll be giving a brief talk entitled "How to Lose $26 Million"–not many others have actually accomplished that. I have 15 RSVPs onMeetUp so far. I've contacted Crain's, the Tribune and WBEZ, but no interviews scheduled yet.
"What if no one shows up?" I keep fearing. If you are in the Chicago area, feel free to stop by. In fact, please stop by.
View this and other posts from Jorge P. Newbery at http://www.huffingtonpost.com/jorge-newbery/
Tags: author, book, Burn Zones, chicago, signing