If you still find it possible to fathom that there was a time before the Internet, you may recall the days when books were either New York Times Bestsellers or not. That was it. But in our modern era, you're likely to read a friend's Facebook post crowing that his or her book is "Number 432,896 on Amazon!" and asking you to go on the site and boost it a little with a review.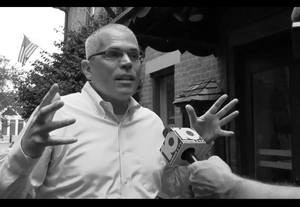 Book reviews aren't only crafted by tweedy, professorial types in their wood-paneled libraries. Everybody's a book reviewer now, just as the Internet has made everyone a food critic, a medical expert (thank you, Dr. Google), and a sports analyst. As the writer of a new self-published book, Burn Zones, I've been learning that reviews are the breath and blood of Internet book sales.
It's a key characteristic of our Internet-infused era. Rent vacation lodging through Airbnb and not only will you be asked to review the accommodations, but the host will get a chance to review you as a guest, for the reference of future hosts. Uber drivers and passengers have the same symmetrical relationship: they review one another, each helping or hurting the other's profile for future uses of the service.
Reviews–positive or negative–are critical to your online profile. Just look at what happened to the Minnesota dentist who was identified as the killer of Cecil the lion in Zimbabwe in July. People who were opposed to what he'd done inundated his dental practice's Yelp page with scathing comments about him, his hunting, and even his skills as a dentist.
Positive reviews and postings on social media are just as powerful. Witness the love that the Internet lavishes on Rosa's, a Philadelphia pizza place that encourages patrons to buy one slice for themselves and one for a homeless person. Scroll through its Yelp reviews for a few minutes, and your faith in humanity will be restored, if only temporarily.
About 88 percent of online shoppers read reviews, according to a 2014 study by BrightLocal. That was an increase of three percentage points from the group's 2013 study. On top of that, according to the survey's more than 2,100 respondents, the most common number of reviews read is four to six. Almost a third of respondents said they read that many reviews.
Here's an intriguing finding in the study: while in 2011, 33 percent of respondents said they didn't trust online reviews as much as personal recommendations, by 2014, that had dropped to 13 percent. The share of people saying they do trust online reviews as much as they trust their friends' recommendations has been growing. Online reviews carry more weight now than we might have imagined just a few years ago.
That's why I emailed 166 of Amazon's top reviewers to offer a copy of Burn Zones in exchange for an honest review. I got 21 responses, of which five said no and 16 said yes. I sent the books in June, but so far, only one of the 16 has reviewed Burn Zones.
However, one of the reviewers shared a more potent response. She wrote that she loved the book and proposed two options: First, she could pitch reviews of Burn Zones to some magazines and journals. That's the slower route, because print vehicles take longer to produce and would insist on having first rights to the review, meaning it couldn't be used elsewhere for as much as a year. Also, she opined that self-published books are often ignored in magazines, so there was a decent chance that no one would publish her review.
On the other hand, she advised that "if you want the reviews posted immediately and everywhere, I can hit Amazon US and UK, Goodreads, LibraryThing, Shelfari, Barnes & Noble, and whoever else carries it, as well as talk about it on Facebook, my website, and Twitter. That could be done by this weekend."
In a sweep of posts, she would get Burn Zones onto about nine different platforms. Nevertheless, I tend to swing for the fences in life. Thus, I agreed with her that attempting to get a magazine review published would be the way to get the most exposure for my book.
In the meantime, I'd encourage everyone who has read Burn Zones to review it on Amazon, and maybe even on Goodreads and other sites. Because that's what we do now: review one another.
View this and other posts from Jorge P. Newbery at http://www.huffingtonpost.com/jorge-newbery/
Tags: amazon, author, Burn Zones, mouth, new, online, reviews, social media, word