Songbae Lee never set out to become an avid advocate of impact investing.
In 1991, two things happened that fostered the impulse to harness the power of the market for social change: he graduated college, and the Soviet Union collapsed.
"I was always trying to decide whether I wanted to work in the non-profit or private sector," Songbae recalled. "I was interested in how to use a market approach to foster economic development. Then, with the fall of the Soviet Union, I realized there were great opportunities in these communist countries to see how capitalism could be used for good."
He joined the Peace Corps and applied to work in the former Soviet Union. His official position was a "Business Development Volunteer" but he spent most of his time teaching English.
Songbae looks back on his time in the Corps fondly. "It's a great experience. Everyone should do it."
That experience, along with his graduate degree from the University of Chicago, eventually led Songbae to working with Calvert Impact Capital. Calvert is a nonprofit investment firm that lends money to "mission-driven organizations worldwide that have a social and/or environmental focus."
Surprisingly, at this point the type of work Songbae was doing was less important than its location. He wanted a job in a city where he had family, and D.C.-based Calvert fit the bill perfectly.
"I wasn't looking for impact investing," he said. "I never knew what it was."
Working at Calvert opened his eyes and got him to think about his investments in a new way. "At first I was only in it for the work, it didn't go beyond that," he says. "I didn't think about where my 401(k) was invested. But it's been a gradual awakening for me where I've really been thinking about how my own investments are making an impact."
Since then, Songbae has embraced the impact investing world. He was one of many attendees of SOCAP17, the largest impact investing conference in the world, last fall.
"It's really just taking the concept of driving a hybrid car or using solar energy, making consumer choices that are aligned with your values, and then turning that over to your investment decisions," he said. "There's never going to be a perfect world. But some of the problems that exist are getting worse, climate change being the easy example, because of the way the economy is currently operating. The idea is not to take that economy apart, but redirect it."
Songbae echoes a sentiment expressed by Robert Rubinstein, the founder of TBLI, about one of the limitations of capitalism. Rubinstein said that, "Products don't reflect their true costs," and Songbae concurs.
"One of the limits of capitalism is that we haven't figured out how to price in externalities," he said, referring to externalities such as social and environmental impact. "Impact investing is simply pricing in those negative externalities."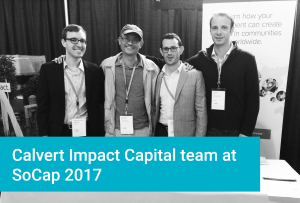 Calvert recently made a big change, updating their name from "Calvert Social Investments" to "Calvert Impact Capital." They have released a 3-year strategic plan that outlines some of their goals and plans to harness the growing excitement about impact investing. This rising interest is creating opportunities, but also challenges.
"There was a tipping point, where traditional Wall Street banks got into impact investing," Songbae said. "The purists claim that they're not really impact investing, they're 'greenwashing,' and the big tent investors think we need to bring them in or else be relegated to irrelevance."
But Songbae is confident about the future. When asked if impact investing would continue to grow, he replied, "No question. There's not enough capital in the philanthropic space to meet the challenges and investment needs required to solve the problems we face." With Calvert, Songbae hopes to help fill in the gaps.