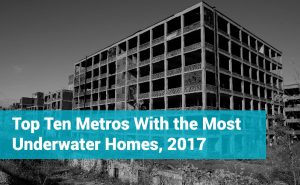 A decade has passed since the housing bubble burst, and it has been a slow, painful recovery from the Great Recession that followed. Many Americans have not recovered at all.
American homeowners bore much of the brunt of the recession: seven million of them lost their homes, most never to return. Today, despite booming real estate markets in some cities, millions of homeowners are still heavily at risk.
These homeowners are considered to be "underwater," a term which means they owe more on their mortgage than the value of their home. This often happens when home values fall, as they did after the bubble popped in 2007.
As if that wasn't bad enough, many homeowners are "seriously underwater." Online real estate information database RealtyTrac considers a homeowner seriously underwater if they owe more than 125% of the value of their home; for example, if they owed more than $125,000 on a home worth only $100,000.
These homeowners are unable to build wealth through equity in their homes, and they are unlikely to be able to sell or refinance. They are also at a higher risk of falling into foreclosure.
RealtyTrac monitors the number of seriously underwater mortgages by metro, state, and nationwide. The good news is that in many of these metros, the percentage of seriously underwater homeowners has fallen since I last compiled a list in 2016.
The bad news is that the problem is far from over. Over 5.4 million American homeowners are still seriously underwater, and in these ten metropolitan areas, the problem is disproportionately grave.
Here are the ten large metro areas with the highest percentages of seriously underwater homes in the second quarter of 2017, according to RealtyTrac: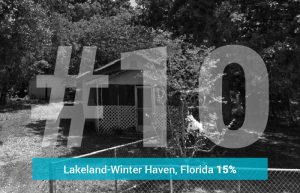 Lakeland-Winter Haven, Florida: 15% Seriously Underwater
Lakeland-Winter Haven is the 87th-most-populous Metropolitan Statistical Area (MSA) in the United States. It is known for growing citrus fruits. 15% of its homeowners are seriously underwater.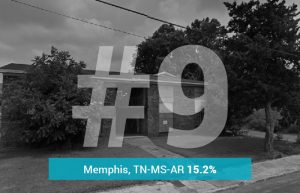 Memphis, TN-MS-AR 15.2%
The capital of the region known as the Mid-South stretches over parts of three states:  Tennessee, Mississippi, and Arkansas.  Music greats such as B.B. King, Aretha Franklin, Johnny Cash, Elvis Presley, and Otis Redding got their starts in Memphis. Unfortunately, nearly 40,000 homes in the area are seriously underwater.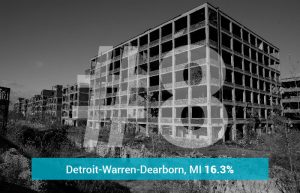 Detroit-Warren-Dearborn, MI 16.3%
Detroit was once an industrial and manufacturing center of the world, but its fortunes have fallen in recent decades due to a variety of factors, particularly the decline in auto manufacturing. This shows in its population decline, which has fallen to just over 677,000 from a high of 1.8 million in 1950.
It also shows in the number of homeowners seriously underwater, which stands at 171,398, or 16.3% of all homes in the area.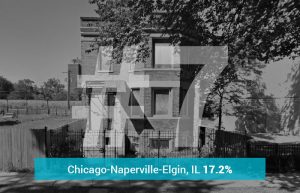 Chicago-Naperville-Elgin, IL-IN-WI 17.2%
My adopted hometown and its surrounding suburbs should be ashamed to be on this list. We are the third-largest city in America as well as the third-largest MSA, known for our winters, deep-dish-pizza, and morally questionable politicians.
This last claim to fame is partly the reason for our underwater homeowner problem, as our mayor and his administration continue to prioritize big business and beautifying downtown over helping the neighborhoods. A staggering 413,577 of our homeowners are seriously underwater – a higher number than any on this list.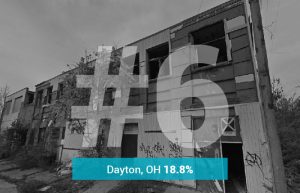 Dayton, OH 18.8%
Dayton is only the first of several Ohio cities on this list. It grew prosperous thanks to being the headquarters of National Cash Register, which manufactured major hardware appliances for businesses worldwide starting in 1884.  National Cash Register (now the NCR Corporation) moved out of Dayton in 2009.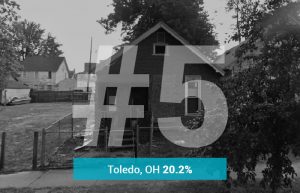 Toledo, OH 20.2%
Toledo has fewer seriously underwater homeowners than Dayton – only 26,533 – but their much smaller population gives them a higher percentage.  Ohio was once a major industrial powerhouse, but has been seriously hurt by the decline of manufacturing in the rust belt.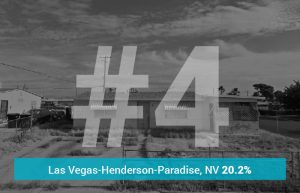 Las Vegas-Henderson-Paradise, NV 20.2%
Las Vegas is not having a good year, considering the tragic mass shooting that occurred there last month, the deadliest shooting by a single perpetrator in modern American history. They also have over 118,000 seriously underwater homeowners.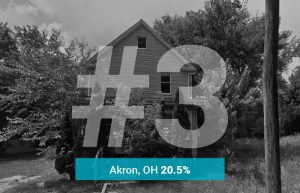 Akron, OH 20.5%
Ouch, Ohio.  Once the fastest-growing city in America, with a thriving rubber industry that gave the city several of its nicknames, Akron has fallen hard along with many of its Ohio neighbors. 41,582 Akron homeowners are seriously underwater.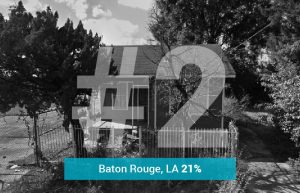 Baton Rouge, LA 21%
The capital of Louisiana has a rich cultural history, and they probably don't want to be known for over one-fifth of their homeowners being seriously underwater. Unfortunately, the city is also plagued by flooding and civil unrest.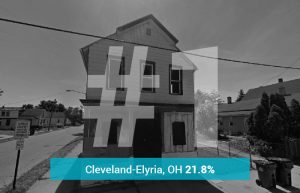 Cleveland-Elyria, OH 21.8%
Cleveland-Elyria tops this list again, although their seriously underwater rate has fallen by 5.3% since last year. Cleveland is home to the Rock and Roll Hall of Fame as well as the Cleveland Cavaliers and star player LeBron James, so they have some reasons to be happy. Hopefully their numbers – and those of all the other cities on this list – keep declining.
Altogether, the ten metro areas on this list contain 1,026,868 seriously underwater homes. This is only 18.9% of the total seriously underwater homes in America. While many of America's homeowners are better off than they were ten years ago, millions are still in trouble. This scourge is far from over.