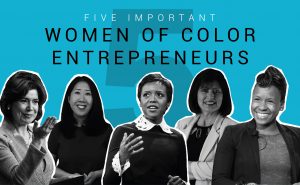 Americans celebrate March as Women's History Month.  Unfortunately, many of the contributions women and girls have made throughout human history have been ignored.  Thus, Women's History Month is a way to draw attention to and recognize these contributions, making up for some of the injustices of history.
Many women are making a growing impact in the business world.  Of course, many women still face a great many challenges breaking through as entrepreneurs; women make up less than 20% of angel investors, less than 10% of venture capitalists, and less than 5% of venture capital goes towards female-led startups.
It's possible that nobody has it harder in the business world than women of color.  In addition to the challenges faced for being women, there are also significant racial disparities.  For example, 87% of startup founders backed by venture capital are white.  Even though black women are the fastest-growing group of entrepreneurs in America, they only receive about .2% of venture capital.   There  is a glaring diversity problem in the business world, but what can we do about it?
A start would be to take a moment before the end of Women's History Month to recognize five important women of color who are also entrepreneurs.  These women of color are the future of entrepreneurship, and they deserve all the recognition they can get.
Maria Contreras-Sweet
Maria Contreras-Sweet is perhaps best known as the former Administrator of Small Business Administration in Barack Obama's cabinet.  Born in Guadalajara, Mexico, Contreras-Sweet was appointed to the SBA in 2014 based on her successes in the business world.  She founded Contreras-Sweet Enterprises, a marketing consulting firm specializing in Latino markets that has clients such as Walt Disney Co. and Coca-Cola.
She also founded ProAmerica Bank, a community bank in downtown LA serving small and medium-sized businesses; she served as executive chairwoman for seven years before being appointed to the Cabinet.
In government, she helped to expand the role of state governments in fostering small business as well as modernized the DMV.
Contreras-Sweet continues to speak publicly about business to large audiences, bringing her experience and wisdom to many more entrepreneurs to come.
Stephanie Lampkin
Stephanie Lampkin holds an engineering degree from Stanford, as well as an MBA from MIT, but was told during the eighth round of interviews at a large tech firm in Silicon Valley that she did not have a "technical enough" background to be a software engineer.
Lampkin found a job at Microsoft instead, but that interview continued to bother her.  She wondered if being an African-American woman had anything to do with her rejection.  So, she set out to create an app that would remove bias, both conscious and unconscious, from the hiring process.
Thus Blendoor was born.  Job seekers upload resumes, but their names, pictures, and ages are hidden from employers during the early stages of the process.  Companies such as Google, Facebook, and Apple are already using the app to diversify their companies, and Lampkin hopes to expand Blendoor to the world of venture capital, where white men still dominate.
Stephanie Lampkin is not only setting  an example; she is ensuring that the path is easier to tread for those coming behind her.
Angela Lee
Angela Lee was aware that only 13% of angel investors were women.  She decided that a better number would be 50%, and so the difference – 37 – became the name of her company:  37 Angels.
37 Angels is an angel investor network made up of only women.  They are "passionate about investing in early stage companies," both male and female-led.  They offer a one-month "angel investing bootcamp" that teaches new investors how to source, diligence, and value early stage startups.
Lee is also an educator.  She is the Executive Director of Academic Integration at Columbia Business School , where she also teaches business courses.
Lee has spoken openly about her struggles as an Asian-American woman in the business world, telling Global Invest Her:  "I get a lot of 'wow, you are a lot less shy than I thought!'  I guess I break the stereotype of Asian women being quiet."  Still, she says, she has often put up with microaggressions, or as she calls them, "minor injustices," such as being ignored in meetings with partners, and being the only woman in large groups of men.
With the success of 37 Angels, however, Lee is helping to make sure that other women of color will have fewer injustices, even minor ones, to deal with in the business world.
Martha de la Torre
In 1998, Martha de la Torre founded El Clasificado, which is now the largest Spanish-language classified print publication in the United States, with her husband.  El Clasificado began distributing in Los Angeles and has since expanded to international markets throughout the Americas, with a weekly circulation of half a million copies, and $20 million in yearly revenues.
De la Torre describes herself as a "reluctant entrepreneur," and for the first several years it was unclear whether or not El Clasificado would endure.  In fact, the business was off to a rocky start when $600,000 in financing fell through, forcing de la Torre to sell her home and car in order to start. Nearly 30 years later, however, de la Torre has beaten the odds and become a stunning example of how perserverence and dedication can pay off.
 Mellody Hobson
Mellody Hobson has come very close to "household-name" status over the past several years thanks to her inspirational TED talks and a remarkable story.
Hobson is the president of Ariel Investments and chairs the Board of Directors of DreamWorks Animation.  She has contributed to Good Morning America, leading a segment about financial advice for women, and she was named one of the Wall Street Journal's 50 Women to Watch all the way back in 2004.
Hobson grew up raised by a single mother on the south side of Chicago, and faced frequent evictions.  She learned at a young age to do things for herself in order to take some of the burden off of her mother, and this independence greatly contributed to her business acumen.
In addition to being a strong advocate for entrepreneurship, Hobson speaks candidly about race and gender issues and says that she refuses to apologize for being a black woman.  Following her example, hopefully many more women of color will shed any hesitation and excel in the business world, and never apologizing for who they are along the way.
Tags: black entrepreneurs, color, entrepreneurs, list, women